當前位置:

發現

&nbsp > &nbsp

雙語美文

&nbsp >&nbsp

正文
哈利·波特與死亡圣器 第33章(上)
2017-03-15 09:28:18來源:愛詞霸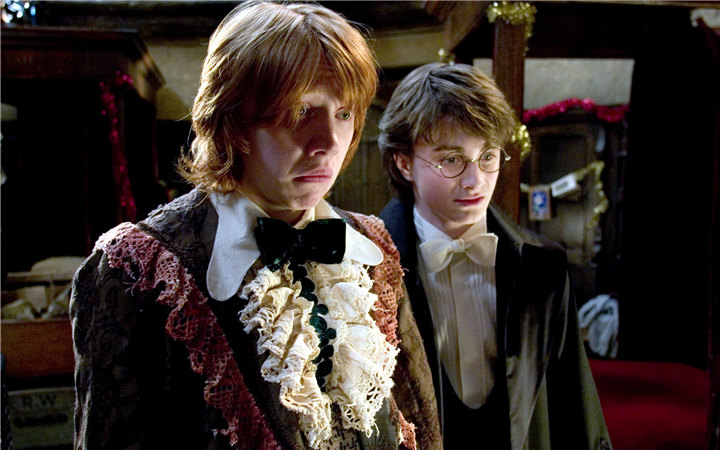 Harry remained kneeling at Snape's side, simply staring down at him, until quite suddenly a high, cold voice spoke so close to them that Harry jumped to his feet, the flask gripped tightly in his hands, thinking that Voldemort had reentered the room.
Voldemort's voice reverberated from the walls and floor, and Harry realized that he was talking to Hogwarts and to all the surrounding area, that the residents of Hogsmeade and all those still fighting in the castle would hear him as clearly as if he stood beside them, his breath on the back of their necks, a deathblow away.
"You have fought," said the high, cold voice, "valiantly. Lord Voldemort knows how to value bravery.
"Yet you have sustained heavy losses. If you continue to resist me, you will all die, one by one. I do not wish this to happen. Every drop of magical blood spilled is a loss and a waste.
"Lord Voldemort is merciful. I command my forces to retreat immediately.
"You have one hour. Dispose of your dead with dignity. Treat your injured.
哈利久久地跪在斯內普身邊,呆呆地凝望著他。突然,一個似乎近在咫尺的高亢、冷酷的聲音開始說話了,哈利驚跳起來,手里緊緊攥著瓶子,以為伏地魔又返回了屋里。
伏地魔的聲音在墻壁和地板間回響,哈利這才意識到他是在對霍格沃茨及周圍的所有地區說話。霍格莫德村的居民和城堡里仍在戰斗的人們都能清楚地聽見他的聲音,如同他就站在他們身邊,他的呼吸就噴在他們脖子后面,他一出手就能讓他們斃命。
"你們進行了勇敢的抵抗,"那個高亢、冷酷的聲音說,"伏地魔大人知道如何欣賞勇氣。"
"但是你們蒙受了沉重的損失。如果繼續抵抗,你們一個接一個都會死去。我不希望發生這樣的事情。巫師的血,每流一滴都是一種損失和浪費。"
"伏地魔大人是仁慈的。我命令我的隊伍撤退,立即撤退。"
"給你們一個小時,體面地安置死者,治療傷員。"
"I speak now, Harry Potter, directly to you. You have permitted your friends to die for you rather than face me yourself. I shall wait for one hour in the Forbidden Forest. If, at the end of that hour, you have not come to me, have not given yourself up, then battle recommences. This time, I shall enter the fray myself, Harry Potter, and I shall find you, and I shall punish every last man, woman, and child who has tried to conceal you from me. One hour."
Both Ron and Hermione shook their heads frantically, looking at Harry.
"Don't listen to him," said Ron.
"It'll be all right," said Hermione wildly. "Let's — let's get back to the castle, if he's gone to the forest we'll need to think of a new plan —"
She glanced at Snape's body, then hurried back to the tunnel entrance. Ron followed her. Harry gathered up the Invisibility Cloak, then looked down at Snape. He did not know what to feel, except shock at the way Snape had been killed, and the reason for which it had been done. . . .
They crawled back through the tunnel, none of them talking, and Harry wondered whether Ron and Hermione could still hear Voldemort ringing in their heads, as he could.
You have permitted your friends to die for you rather than face me yourself. I shall wait for one hour in the Forbidden Forest. . . . One hour. . . .
"哈利·波特,現在我直接對你說話。你聽任你的朋友為你赴死,而不是挺身出來面對我。我將在禁林里等候一個小時。如果一小時后你沒有來找我,沒有主動投降,那么戰斗還將繼續。這次我將親自上陣,哈利·波特,我將找到你,我將懲罰每一個試圖窩藏你的男人、女人和孩子,一個也不放過。一個小時。"
羅恩和赫敏都看著哈利拼命搖頭。
"別聽他的。"羅恩說。
"沒關系的,"赫敏激動地說,"我們——我們回城堡去吧。如果他去了禁林,我們需要重要新考慮一個計劃——"
她掃了一眼斯內普的尸體,便匆匆朝隧道入口走去,羅恩也跟了過來。哈利收起隱形衣,又低頭看著斯內普。他說不清內心的感受,只是為斯內普的這種死法,以及他喪命的原因感到震驚……
他們在隧道里往外爬,誰也沒有說話,哈利不知道羅恩和赫敏是不是也像他一樣,腦子里仍然回響著伏地魔的聲音。
你聽任你的朋友為你赴死,而不是挺身出來面對我。我將在禁林里等候一個小時……一個小時……
Small bundles seemed to litter the lawn at the front of the castle. It could only be an hour or so from dawn, yet it was pitch-black. The three of them hurried toward the stone steps. A lone clog, the size of a small boat, lay abandoned in front of them. There was no other sign of Grawp or of his attacker.
The castle was unnaturally silent. There were no flashes of light now, no bangs or screams or shouts. The flagstones of the deserted entrance hall were stained with blood. Emeralds were still scattered all over the floor, along with pieces of marble and splintered wood. Part of the banisters had been blown away.
"Where is everyone?" whispered Hermione.
Ron led the way to the Great Hall. Harry stopped in the doorway.
The House tables were gone and the room was crowded. The survivors stood in groups, their arms around each other's necks. The injured were being treated upon the raised platform by Madam Pomfrey and a group of helpers. Firenze was amongst the injured; his flank poured blood and he shook where he lay, unable to stand.
The dead lay in a row in the middle of the Hall. Harry could not see Fred's body, because his family surrounded him. George was kneeling at his head; Mrs. Weasley was lying across Fred's chest, her body shaking, Mr. Weasley stroking her hair while tears cascaded down his cheeks.
Without a word to Harry, Ron and Hermione walked away. Harry saw Hermione approach Ginny, whose face was swollen and blotchy, and hug her. Ron joined Bill, Fleur, and Percy, who flung an arm around Ron's shoulders. As Ginny and Hermione moved closer to the rest of the family, Harry had a clear view of the bodies lying next to Fred: Remus and Tonks, pale and still and peaceful-looking, apparently asleep beneath the dark, enchanted ceiling.
城堡前的草地上散落著一個個小包裹似的東西。離天亮大約只有一小時了,四下里還是漆黑一片。他們三個急急忙忙跑向石階。一根小船那么大的長木頭橫在他們面前,格洛普和剛才襲擊他的那個巨人都不見了蹤影。
城堡里異常寂靜,此刻既看不見亮光閃爍,也聽不見撞擊聲、尖叫聲和吶喊聲。空無一人的門廳里,石板上血跡斑斑,綠寶石仍然散落在地,還有破碎的大理石和劈裂的木頭;一部分扶欄被炸飛了。
"人都到哪兒去了?"赫敏輕聲說。
羅恩領頭朝大禮堂走去。哈利在門口停住了。
學院桌子不見了,禮堂里擠滿了人。幸存者三五成群地站著,互相摟抱在一起。傷員都集中在高臺上,龐弗雷夫人和一群助手在給他們治療。費倫澤也受傷了,他的一側身體大量出血,已經站立不住,躺在那里瑟瑟發抖。
死者在禮堂中央躺成一排。哈利看不見弗雷德的遺體,因為他的家人把他團團圍住了。喬治跪在弗雷德腦袋邊,韋斯萊夫人渾身顫抖地伏在弗雷德胸上,韋斯萊先生撫摸著她的頭發,淚流滿面。
羅恩和赫敏沒有對哈利說一句話就走開了。哈利看見赫敏走到金妮面前抱了抱她,金妮的臉腫著,滿是污垢。羅恩走到比爾、芙蓉和珀西身邊,珀西摟住了羅恩的肩膀。就在金妮和赫敏靠近家里其他人時,哈利看清了躺在弗雷德身邊的兩具遺體:萊姆斯和唐克斯,臉色蒼白,一動不動,但看上去很寧靜,似乎在施了魔法的漆黑的天花板下安詳地睡著了。
The Great Hall seemed to fly away, become smaller, shrink, as Harry reeled backward from the doorway. He could not draw breath. He could not bear to look at any of the other bodies, to see who else had died for him. He could not bear to join the Weasleys, could not look into their eyes, when if he had given himself up in the first place, Fred might never have died. . . .
He turned away and ran up the marble staircase. Lupin, Tonks . . . He yearned not to feel. . . . He wished he could rip out his heart, his innards, everything that was screaming inside him. . . .
The castle was completely empty; even the ghosts seemed to have joined the mass mourning in the Great Hall. Harry ran without stopping, clutching the crystal flask of Snape's last thoughts, and he did not slow down until he reached the stone gargoyle guarding the headmaster's office.
"Password?"
"Dumbledore!" said Harry without thinking, because it was he whom he yearned to see, and to his surprise the gargoyle slid aside, revealing the spiral staircase behind.
But when Harry burst into the circular office he found a change. The portraits that hung all around the walls were empty. Not a single headmaster or headmistress remained to see him; all, it seemed, had flitted away, charging through the paintings that lined the castle, so that they could have a clear view of what was going on.
哈利踉踉蹌蹌地后退著離開門口,禮堂似乎在飛去,越縮越校他透不過氣來。他沒有勇氣再去看其他遺體,再去弄清還有誰為他而死。他不敢去見韋斯萊一家,不敢看他們的眼睛,如果他一開始就主動投降,弗雷德也許就不會死……
他轉身順著大理石樓梯往上跑。盧平、唐克斯……他多么希望自己沒有感覺……多么希望能把他的心、他的五臟六腑都扯出來,這些東西都在他的體內尖叫……
城堡里空無一人,就連幽靈似乎也加入了禮堂里哀悼的人群。哈利不停地往前跑,手里緊緊攥著裝滿斯內普最后思想的水晶瓶,一直跑到校長辦公室外的石獸跟前才放慢了腳步。
"口令?"
"鄧布利多!"哈利不假思索地喊道,因為他最想見的人就是鄧布利多。令他吃驚的是,石獸竟然滑到一邊,露出了后面的螺旋樓梯。
哈利沖進圓形辦公室,發現這里已經有了變化。墻上掛的肖像都空了。那些男女校長沒有一個留在這里。他們似乎都逃走了,順著城堡墻壁上排列的圖畫沖到了前面,想看清事態的發展。
Harry glanced hopelessly at Dumbledore's deserted frame, which hung directly behind the headmaster's chair, then turned his back on it. The stone Pensieve lay in the cabinet where it had always been: Harry heaved it onto the desk and poured Snape's memories into the wide basin with its runic markings around the edge. To escape into someone else's head would be a blessed relief. . . . Nothing that even Snape had left him could be worse than his own thoughts. The memories swirled, silver white and strange, and without hesitating, with a feeling of reckless abandonment, as though this would assuage his torturing grief, Harry dived.
He fell headlong into sunlight, and his feet found warm ground. When he straightened up, he saw that he was in a nearly deserted playground. A single huge chimney dominated the distant skyline. Two girls were swinging backward and forward, and a skinny boy was watching them from behind a clump of bushes. His black hair was overlong and his clothes were so mismatched that it looked deliberate: too short jeans, a shabby, overlarge coat that might have belonged to a grown man, an odd smocklike shirt.
Harry moved closer to the boy. Snape looked no more than nine or ten years old, sallow, small, stringy. There was undisguised greed in his thin face as he watched the younger of the two girls swinging higher and higher than her sister.
"Lily, don't do it!" shrieked the elder of the two.
But the girl had let go of the swing at the very height of its arc and flown into the air, quite literally flown, launched herself skyward with a great shout of laughter, and instead of crumpling on the playground asphalt, she soared like a trapeze artist through the air, staying up far too long, landing far too lightly.
"Mummy told you not to!"
Petunia stopped her swing by dragging the heels of her sandals on the ground, making a crunching, grinding sound, then leapt up, hands on hips.
"Mummy said you weren't allowed, Lily!"
"But I'm fine," said Lily, still giggling. "Tuney, look at this. Watch what I can do."
哈利絕望地看了一眼掛在校長座椅后面的鄧布利多的空肖像框,然后轉過身來。石頭冥想盆還和往常一樣放在柜子里。哈利把盆口刻有如尼文符號的大石盆搬到桌子上,將斯內普的記憶倒了進去。逃到別人的思想里去也是一種解脫……即使是斯內普留給他的東西,也不可能比他自己的思緒更糟。記憶在旋轉,銀白色,形狀奇異,哈利不再遲疑,抱著一種不管不顧、徹底放棄的心理,一頭扎了進去,似乎這能緩解他內心刀割般的痛苦。
他頭朝前落進了陽光里,雙腳踏在溫暖的土地上。他直起身子,發現自己是在一個幾乎沒有人的游樂場上。一個大大的煙囪赫然聳立在遠處的天際。兩個女孩在蕩秋千,一個瘦瘦的男孩躲在灌木叢后面注視著她們。男孩的黑頭發很長,身上的衣服極不協調,倒像是故意穿成這個樣子:一條過短的牛仔褲,一件又大又長、像是大人穿的破舊外衣,還有一件怪模怪樣的孕婦服似的襯衫。
哈利走近男孩身邊。斯內普看上去約莫九到十歲,臉色灰黃,個頭矮小,體格精瘦。注視著較小的那個女孩在秋千上比那個大的越蕩越高,他瘦瘦的臉上露出了不加掩飾的渴慕。
"莉莉,別這樣!"較大的女孩尖叫道。
可是,小女孩在秋千蕩到最高處時松開手飛到空中,真的是在飛,歡聲大笑著撲向天空。她并沒有重重地摔在游戲場的柏油地上,而是像雜技演員一樣在空中滑翔,停留了很長時間,最后十分輕盈地落在地上。
"媽媽叫你別這么做!"
佩妮讓鞋跟擦地停住秋千,發出尖厲刺耳的摩擦聲,然后她又跳了起來,雙手叉腰。
"媽媽說不許你這樣,莉莉!"
"可是我沒事兒,"莉莉說,還在咯咯笑著,"佩妮,看看這個。看我的本事。"
Petunia glanced around. The playground was deserted apart from themselves and, though the girls did not know it, Snape. Lily had picked up a fallen flower from the bush behind which Snape lurked. Petunia advanced, evidently torn between curiosity and disapproval. Lily waited until Petunia was near enough to have a clear view, then held out her palm. The flower sat there, opening and closing its petals, like some bizarre, many-lipped oyster.
"Stop it!" shrieked Petunia.
"It's not hurting you," said Lily, but she closed her hand on the blossom and threw it back to the ground.
"It's not right," said Petunia, but her eyes had followed the flower's flight to the ground and lingered upon it. "How do you do it?" she added, and there was definite longing in her voice.
"It's obvious, isn't it?" Snape could no longer contain himself, but had jumped out from behind the bushes. Petunia shrieked and ran backward toward the swings, but Lily, though clearly startled, remained where she was. Snape seemed to regret his appearance. A dull flush of color mounted the sallow cheeks as he looked at Lily.
"What's obvious?" asked Lily.
Snape had an air of nervous excitement. With a glance at the distant Petunia, now hovering beside the swings, he lowered his voice and said, "I know what you are."
"What do you mean?"
"You're . . . you're a witch," whispered Snape.
She looked affronted.
佩妮看了看四周,空蕩蕩的游戲場里只有她們兩人,當然還有斯內普,不過女孩們并不知道。莉莉從斯內普藏身的灌木叢里撿起一朵枯落的花。佩妮走了上來,看上去既好奇又不滿,內心十分矛盾。莉莉等佩妮走近可以看清了,就把手攤開來,花瓣在她手心里不停地一開一合,就像某種古怪的、多層的牡蠣。
"別這樣!"佩妮尖叫道。
"我又沒把你怎么樣。"莉莉說,不過她還是把花捏成一團扔到了地上。
"這不對,"佩妮說道,但她的目光追隨著落地的花,并久久地停在上面,"你是怎么做的?"她又問,聲音里透著掩飾不住的渴望。
"這不是很清楚的事嗎?"斯內普再也克制不住,從灌木叢后面跳了出來。佩妮尖叫一聲,轉身朝秋千跑去,莉莉顯然也嚇了一跳,但待在原地沒動。斯內普似乎后悔自己貿然出現,他看著莉莉,灰黃的面頰上泛起淡淡的紅暈。
"什么很清楚?"莉莉問。
斯內普顯得又緊張又激動。他看看遠處在秋千旁徘徊的佩妮,壓低了聲音說道:"我知道你是什么人。"
"什么意思?"
"你是……你是個女巫。"斯內普輕聲說。
莉莉像是受了侮辱。
"That's not a very nice thing to say to somebody!"
She turned, nose in the air, and marched off toward her sister.
"No!" said Snape. He was highly colored now, and Harry wondered why he did not take off the ridiculously large coat, unless it was because he did not want to reveal the smock beneath it. He flapped after the girls, looking ludicrously batlike, like his older self.
The sisters considered him, united in disapproval, both holding on to one of the swing poles as though it was the safe place in tag.
"You are," said Snape to Lily. "You are a witch. I've been watching you for a while. But there's nothing wrong with that. My mum's one, and I'm a wizard."
Petunia's laugh was like cold water.
"Wizard!" she shrieked, her courage returned now that she had recovered from the shock of his unexpected appearance. "I know who you are. You're that Snape boy! They live down Spinner's End by the river," she told Lily, and it was evident from her tone that she considered the address a poor recommendation. "Why have you been spying on us?"
"Haven't been spying," said Snape, hot and uncomfortable and dirty-haired in the bright sunlight. "Wouldn't spy on you, anyway," he added spitefully, "you're a Muggle."
Though Petunia evidently did not understand the word, she could hardly mistake the tone.
"對別人說這種話是很不禮貌的!"
她轉過身,仰著臉大步朝她姐姐走去。
"不!"斯內普說。他的臉已經變得通紅,哈利不明白他為什么不脫掉那件可笑的超大外衣,除非是因為他不想露出下面的孕婦服。他甩著袖子去追兩個女孩,那滑稽的模樣活像蝙蝠,活像他成年后的樣子。
姐妹倆以同樣不滿的目光審視著他,兩人都抓著一根秋千柱子,好像那是捉人游戲中的安全地帶。
"你就是,"斯內普對莉莉說,"你就是個女巫。我觀察你有一陣子了。這沒有什么不好的。我媽媽就是女巫,我是男巫。"
佩妮的笑聲像冷水一樣。
"男巫!"她尖叫一聲。剛才這男孩的突然出現使她受驚不小,現在她恢復了鎮靜,勇氣又回來了。"我知道你是誰。你是斯內普家的那個小男孩!他們住在河邊的蜘蛛尾巷,"她告訴莉莉,語氣明顯表示她認為那是個下三濫的地方,"你為什么要偷看我們?"
"我沒有偷看,"斯內普說,他又激動又不安,在明亮的陽光下頭發顯得很臟,"才不愿意偷看你呢,"他輕蔑地接著說,"你是個麻瓜。"
佩妮顯然不明白這個詞的意思,但她絕不會聽不懂他的語氣。
"Lily, come on, we're leaving!" she said shrilly. Lily obeyed her sister at once, glaring at Snape as she left. He stood watching them as they marched through the playground gate, and Harry, the only one left to observe him, recognized Snape's bitter disappointment, and understood that Snape had been planning this moment for a while, and that it had all gone wrong. . . .
The scene dissolved, and before Harry knew it, re-formed around him. He was now in a small thicket of trees. He could see a sunlit river glittering through their trunks. The shadows cast by the trees made a basin of cool green shade. Two children sat facing each other, cross-legged on the ground. Snape had removed his coat now; his odd smock looked less peculiar in the half light.
". . . and the Ministry can punish you if you do magic outside school, you get letters."
"But I have done magic outside school!"
"We're all right. We haven't got wands yet. They let you off when you're a kid and you can't help it. But once you're eleven," he nodded importantly, "and they start training you, then you've got to go careful."
There was a little silence. Lily had picked up a fallen twig and twirled it in the air, and Harry knew that she was imagining sparks trailing from it. Then she dropped the twig, leaned in toward the boy, and said, "It is real, isn't it? It's not a joke? Petunia says you're lying to me. Petunia says there isn't a Hogwarts. It is real, isn't it?"
"It's real for us," said Snape. "Not for her. But we'll get the letter, you and me."
"Really?" whispered Lily.
"莉莉,快,我們走吧!"她尖聲說。莉莉立刻聽從姐姐的話動身離開了,但眼睛還瞪著斯內普。
And Snape left the room. Harry rose up out of the Pensieve, and moments later he lay on the carpeted floor in exactly the same room: Snape might just have closed the door.
斯內普站在那里注視著她倆大步穿過游戲場的門,此刻只有哈利在一旁看著他。哈利看出了斯內普內心的痛苦和失望,他明白斯內普籌劃這一刻有一段時間了,沒想到一切都亂了套……
眼前的情景消失了,沒等哈利反應過來,周圍完全變了樣兒。
他現在是在一片小樹林里。他看見一條陽光下的小河在樹叢間流過,波光粼粼,樹蔭灑下一片墨綠色的清涼。兩個孩子盤著腿,面對面地坐在地上。斯內普已經脫去了外衣,在半明半暗的光線里,那件古怪的孕婦服顯得不那么刺眼了。
"……如果你在校外施魔法,魔法部就會懲罰你,你會收到信的。"
"可是我在校外施過魔法呀!"
"我們沒關系。我們還沒有魔杖呢。小孩子控制不住自己,他們不管。一旦到了十一歲,"他煞有介事地點點頭,"他們開始訓練你,那時你就得小心點兒了。"
兩人沉默了一會兒。莉莉撿起地上的一根樹枝,在空中快速地旋轉,哈利知道她在想象樹枝后面飄出火星。然后她扔掉樹枝,沖著男孩探身說道:"這是真的,對嗎?不是開玩笑?佩妮說你在騙我。佩妮說根本沒有什么霍格沃茨。這是真的,對嗎?"
"對我們來說是真的,"斯內普說,"對她來說不是。我們會收到信的,你和我。"
"真的?"莉莉輕聲問。
"Definitely," said Snape, and even with his poorly cut hair and his odd clothes, he struck an oddly impressive figure sprawled in front of her, brimful of confidence in his destiny.
"And will it really come by owl?" Lily whispered.
"Normally," said Snape. "But you're Muggle-born, so someone from the school will have to come and explain to your parents."
"Does it make a difference, being Muggle-born?"
Snape hesitated. His black eyes, eager in the greenish gloom, moved over the pale face, the dark red hair.
"No," he said. "It doesn't make any difference."
"Good," said Lily, relaxing: It was clear that she had been worrying.
"You've got loads of magic," said Snape. "I saw that. All the time I was watching you . . ."
His voice trailed away; she was not listening, but had stretched out on the leafy ground and was looking up at the canopy of leaves overhead. He watched her as greedily as he had watched her in the playground.
"How are things at your house?" Lily asked.
A little crease appeared between his eyes.
"Fine," he said.
"千真萬確。"斯內普說,他雖然頭發參差不齊,衣服稀奇古怪,但坐在她面前卻顯得別有一番氣派,對自己的前途充滿信心。
"信真的是由貓頭鷹送來?"莉莉小聲問。
"一般來說是這樣,"斯內普說,"但你是麻瓜出身,所以學校會派人來向你父母解釋一下。"
"麻瓜出身會有什么不同嗎?"
斯內普遲疑著,他的黑眼睛在綠蔭下顯得很熱切,看著莉莉那張蒼白的臉和那頭深紅色的頭發。
"不會,"他說,"不會有什么不同。"
"太好了。"莉莉說,松了口氣。顯得她一直在為此擔心。
"你會變許多魔法,"斯內普說,"我看見了。我一直在偷看你……"他的聲音越來越輕。莉莉沒有聽他說,而是四肢伸開躺在鋪滿綠葉的地上,望著頭頂茂密的樹葉。斯內普渴慕地望著她,就像游戲場上望著她時一樣。
"你家里的事情怎么樣啦?"莉莉問。
斯內普微微蹙起了眉頭。
"還好。"他說。
"They're not arguing anymore?"
"Oh yes, they're arguing," said Snape. He picked up a fistful of leaves and began tearing them apart, apparently unaware of what he was doing. "But it won't be that long and I'll be gone."
"Doesn't your dad like magic?"
"He doesn't like anything, much," said Snape.
"Severus?"
A little smile twisted Snape's mouth when she said his name.
"Yeah?"
"Tell me about the dementors again."
"What d'you want to know about them for?"
"If I use magic outside school —"
"They wouldn't give you to the dementors for that! Dementors are for people who do really bad stuff. They guard the wizard prison, Azkaban. You're not going to end up in Azkaban, you're too —"
He turned red again and shredded more leaves. Then a small rustling noise behind Harry made him turn: Petunia, hiding behind a tree, had lost her footing.
"他們不吵了?"
"噢,還吵,"斯內普說,一邊抓起一把葉子,把它們撕碎了,但顯然并沒有意識到自己在做什么,"但不會太久了,我就要走了。"
"你爸爸不喜歡魔法?"
"他什么都不太喜歡。"斯內普說。
"西弗勒斯?"
聽到她叫自己的名字,斯內普的嘴角掠過一絲笑意。
"嗯?"
"再跟我說說攝魂怪的事。"
"你打聽它們干什么?"
"如果我在校外使用魔法——"
"不會為了這個把你交給攝魂怪的!攝魂怪是專門對付那些真正干了壞事的人。它們看守巫師監獄——阿茲卡班。你不會進阿茲卡班的,你太——"
他的臉又紅了,撕碎了更多的樹葉。就在這時,哈利身后傳來沙沙的聲音,他轉身一看,佩妮躺在一棵樹后,腳下沒有站穩。
"Tuney!" said Lily, surprise and welcome in her voice, but Snape had jumped to his feet.
"Who's spying now?" he shouted. "What d'you want?"
Petunia was breathless, alarmed at being caught. Harry could see her struggling for something hurtful to say.
"What is that you're wearing, anyway?" she said, pointing at Snape's chest. "Your mum's blouse?"
There was a crack: A branch over Petunia's head had fallen. Lily screamed: The branch caught Petunia on the shoulder, and she staggered backward and burst into tears.
"Tuney!"
But Petunia was running away. Lily rounded on Snape.
"Did you make that happen?"
"No." He looked both defiant and scared.
"You did!" She was backing away from him. "You did ! You hurt her!"
"No — no I didn't!"
But the lie did not convince Lily: After one last burning look, she ran from the little thicket, off after her sister, and Snape looked miserable and confused. . . .
"佩妮!"莉莉說,聲音里透著驚訝和歡迎,可是斯內普跳了起來。
"現在是誰在偷看?"他嚷道,"你想干嗎?"
佩妮被發現后驚慌失措,幾乎喘不過氣來。哈利看出她在絞盡腦汁想說幾句傷人的話。
"你倒說說你穿的那是什么?"她指著斯內普的胸口,"你媽媽的衣服?"
咔嚓一聲,佩妮頭頂上一根樹枝突然落了下來。莉莉尖叫一聲,樹枝砸中了佩妮的肩膀,她踉蹌著后退幾步,哭了起來。
"佩妮!"
可是佩妮跑開了。莉莉朝斯內普發火了。
"是你干的嗎?"
"不是。"斯內普顯得既不服又害怕。
"就是你!"莉莉從他面前后退,"就是你!你傷著她了!"
"不——我沒有!"
然而莉莉不相信他的謊話。她氣沖沖地看了他最后一眼,就跑出小樹林,追她姐姐去了,斯內普顯得痛苦而困惑……
And the scene re-formed. Harry looked around: He was on platform nine and three-quarters, and Snape stood beside him, slightly hunched, next to a thin, sallow-faced, sour-looking woman who greatly resembled him. Snape was staring at a family of four a short distance away. The two girls stood a little apart from their parents. Lily seemed to be pleading with her sister; Harry moved closer to listen.
". . . I'm sorry, Tuney, I'm sorry! Listen —" She caught her sister's hand and held tight to it, even though Petunia tried to pull it away. "Maybe once I'm there — no, listen, Tuney! Maybe once I'm there, I'll be able to go to Professor Dumbledore and persuade him to change his mind!"
"I don't — want — to — go!" said Petunia, and she dragged her hand back out of her sister's grasp. "You think I want to go to some stupid castle and learn to be a — a —"
Her pale eyes roved over the platform, over the cats mewling in their owners' arms, over the owls fluttering and hooting at each other in cages, over the students, some already in their long black robes, loading trunks onto the scarlet steam engine or else greeting one another with glad cries after a summer apart.
"— you think I want to be a — a freak?"
Lily's eyes filled with tears as Petunia succeeded in tugging her hand away.
"I'm not a freak," said Lily. "That's a horrible thing to say."
"That's where you're going," said Petunia with relish. "A special school for freaks. You and that Snape boy . . . weirdos, that's what you two are. It's good you're being separated from normal people. It's for our safety."
Lily glanced toward her parents, who were looking around the platform with an air of wholehearted enjoyment, drinking in the scene. Then she looked back at her sister, and her voice was low and fierce.
場景轉換。哈利環顧四周,他是在9又3/4站臺上,斯內普站在他旁邊,微微弓著身子,緊挨著一個跟他長得很像的臉色灰黃、神情陰沉的瘦女人。斯內普正盯著不遠處的一家四口。兩個女孩離開她們的父母站著。莉莉似乎在央求她的姐姐。哈利湊過去聽。
"……我很難過,佩妮,我很難過!你聽我說——"她抓過姐姐的手緊緊地握住,佩妮則拼命想掙扎,"也許我一到那兒——不,聽我說,佩妮!也許我一到那兒,就能找到鄧布利多教授,說服他改變主意!"
"我才——不想——去呢!"佩妮說,使勁想把手從妹妹手里抽出來,"你以為我愿意到某個荒唐的城堡里去,學著做一個——一個——"
她淺色的眼睛望著站臺,望著貓在主人懷里喵喵地叫,望著貓頭鷹在籠子里撲打翅膀,互相高叫,望著那些學生——有的已穿上黑色的長袍,他們在把行李搬上鮮紅色的蒸汽機車,在分別一個暑假后高興地大聲與同學打著招呼。
"——你以為我想成為一個——一個怪物?"
佩妮終于把手抽走了,莉莉眼睛里滿是淚水。
"我不是怪物,"莉莉說,"這么說真難聽。"
"那就是你要去的地方,"佩妮來勁地說道,"一個專門給怪物辦的學校。你和那個姓斯內普的男孩……怪胎,你們倆都是怪胎。幸好把你們跟普通人隔開了,那是為了我們的安全。"
莉莉朝父母那邊瞟了一眼,他們正帶著由衷的喜悅看著站臺上的情景,心情的飽覽這一幕。莉莉又回過頭來看著姐姐,壓低聲音,語氣變得很激烈。
"You didn't think it was such a freak's school when you wrote to the headmaster and begged him to take you."
Petunia turned scarlet.
"Beg? I didn't beg!"
"I saw his reply. It was very kind."
"You shouldn't have read —" whispered Petunia, "that was my private — how could you — ?"
Lily gave herself away by half-glancing toward where Snape stood nearby. Petunia gasped.
"That boy found it! You and that boy have been sneaking in my room!"
"No — not sneaking —" Now Lily was on the defensive. "Severus saw the envelope, and he couldn't believe a Muggle could have contacted Hogwarts, that's all! He says there must be wizards working undercover in the postal service who take care of —"
"Apparently wizards poke their noses in everywhere!" said Petunia, now as pale as she had been flushed. "Freak!" she spat at her sister, and she flounced off to where her parents stood. . . .
The scene dissolved again.
Snape was hurrying along the corridor of the Hogwarts Express as it clattered through the countryside. He had already changed into his school robes, had perhaps taken the first opportunity to take off his dreadful Muggle clothes. At last he stopped, outside a compartment in which a group of rowdy boys were talking. Hunched in a corner seat beside the window was Lily, her face pressed against the windowpane.
"你給校長寫信求他收下你時,可沒認為這是一所怪物學校。"
佩妮的臉變得通紅。
"求?我沒求!"
"我看見他的回信了,寫得很委婉。"
"你不應該偷看——"佩妮輕聲說,"那是我的隱私——你怎么可以——"
莉莉朝站在近旁的斯內普瞥了一眼,泄漏了秘密。佩妮倒抽了一口冷氣。
"那個男孩發現的!你和那個男孩偷偷溜進了我們房間!"
"不是——不是偷偷溜進去——"現在是莉莉在辯解了,"西弗勒斯看見了一信封,他不相信麻瓜也能跟霍格沃茨取得聯系,就是這樣!他說肯定有巫師潛入了郵政系統,秘密地關照——"
"看來巫師到處亂管閑事!"佩妮說道,剛才通紅的臉現在變得煞白,"怪物!"她朝妹妹啐了一口,猛一轉身,向父母跑去……
場景又消失了。
斯內普在霍格沃茨特快列車的過道里匆匆往前走,列車哐當哐當地在鄉野間穿行。他已經換上了校袍,這大概是他第一次有機會脫掉那身難看的麻瓜衣服。終于,他在一間包廂外停住腳步,包廂里一群吵吵鬧鬧的男孩正在聊天。莉莉蜷身坐在窗邊角落里的一個座位上,臉貼著玻璃窗。
Snape slid open the compartment door and sat down opposite Lily. She glanced at him and then looked back out of the window. She had been crying.
"I don't want to talk to you," she said in a constricted voice.
"Why not?"
"Tuney h-hates me. Because we saw that letter from Dumbledore."
"So what?"
She threw him a look of deep dislike.
"So she's my sister!"
"She's only a —" He caught himself quickly; Lily, too busy trying to wipe her eyes without being noticed, did not hear him.
"But we're going!" he said, unable to suppress the exhilaration in his voice. "This is it! We're off to Hogwarts!"
She nodded, mopping her eyes, but in spite of herself, she half smiled.
"You'd better be in Slytherin," said Snape, encouraged that she had brightened a little.
"Slytherin?"
斯內普拉開包廂的門,坐在了莉莉對面。莉莉看了他一眼,又回過頭望著窗外。她一直在哭。
"我不想跟你說話。"她聲音哽咽地說。
"為什么?"
"佩妮恨——恨我,因為我們看了鄧布利多的那封信。"
"那又怎么樣?"
她非常嫌惡地白了他一眼。
"她是我姐姐!"
"她不過是個——"他趕緊閉了嘴。莉莉只顧忙著偷偷擦眼淚,沒有聽見他的話。
"可是我們出發了!"他說,聲音里帶著無法抑制的喜悅,"沒錯!我們出發去霍格沃茨了!"
莉莉點點頭,擦擦眼睛,忍不住露出了一絲笑容。
"你最好進斯萊特林。"斯內普說道,看到莉莉高興了一點,他覺得很受鼓舞。
"斯萊特林?"
One of the boys sharing the compartment, who had shown no interest at all in Lily or Snape until that point, looked around at the word, and Harry, whose attention had been focused entirely on the two beside the window, saw his father: slight, black-haired like Snape, but with that indefinable air of having been well-cared-for, even adored, that Snape so conspicuously lacked.
"Who wants to be in Slytherin? I think I'd leave, wouldn't you?" James asked the boy lounging on the seats opposite him, and with a jolt, Harry realized that it was Sirius. Sirius did not smile.
"My whole family have been in Slytherin," he said.
"Blimey," said James, "and I thought you seemed all right!"
Sirius grinned.
"Maybe I'll break the tradition. Where are you heading, if you've got the choice?"
James lifted an invisible sword.
" 'Gryffindor, where dwell the brave at heart!' Like my dad."
Snape made a small, disparaging noise. James turned on him.
"Got a problem with that?"
"No," said Snape, though his slight sneer said otherwise. "If you'd rather be brawny than brainy —"
"Where're you hoping to go, seeing as you're neither?" interjected Sirius.
坐在包廂里的一個男孩聽到這個詞轉過頭來。他本來對莉莉和斯內普沒有表示出絲毫興趣。哈利剛才把注意力全集中在窗邊的兩個人身上,此刻才看見了自己的父親:他像斯內普一樣身材瘦弱,頭發烏黑,但一看就知道從小備受呵護,甚至很受寵愛,這顯然是斯內普極度缺乏的。
"誰想去斯萊特林?我才不愿待在那兒呢,你呢?"詹姆問悠閑地坐在對面座位上的男孩。哈利心頭一跳,認出那是小天狼星。小天狼星沒有笑。
"我們全家都是斯萊特林的。"他說。
"天哪,"詹姆說,"我還覺得你挺好的呢!"
小天狼星咧嘴笑了笑。
"說不定我會打破傳統。如果讓你選擇,你想去哪兒?"
詹姆舉起一把無形的寶劍。
"'格蘭芬多,那里有埋藏在心底的勇敢!'像我爸爸一樣。"
斯內普輕蔑地哼了一聲,詹姆轉頭看著他。
"怎么,你有意見?"
"沒有,"斯內普說,但他傲慢的饑笑卻表露了相反的意思,"如果你情愿肌肉發達而不是頭腦發達——"
"那么你希望去哪兒?看樣子你兩樣都不發達。"小天狼星突然插嘴道。
James roared with laughter. Lily sat up, rather flushed, and looked from James to Sirius in dislike.
"Come on, Severus, let's find another compartment."
"Oooooo . . ."
James and Sirius imitated her lofty voice; James tried to trip Snape as he passed.
"See ya, Snivellus!" a voice called, as the compartment door slammed. . . .
And the scene dissolved once more. . . .
Harry was standing right behind Snape as they faced the candlelit House tables, lined with rapt faces. Then Professor McGonagall said, "Evans, Lily!"
He watched his mother walk forward on trembling legs and sit down upon the rickety stool. Professor McGonagall dropped the Sorting Hat onto her head, and barely a second after it had touched the dark red hair, the hat cried, "Gryffindor!"
Harry heard Snape let out a tiny groan. Lily took off the hat, handed it back to Professor McGonagall, then hurried toward the cheering Gryffindors, but as she went she glanced back at Snape, and there was a sad little smile on her face. Harry saw Sirius move up the bench to make room for her. She took one look at him, seemed to recognize him from the train, folded her arms, and firmly turned her back on him.
詹姆大聲笑了起來。莉莉挺直身子,緋紅了臉,厭惡地看看詹姆,又看看小天狼星。
"走吧,西弗勒斯,我們另外找一間包廂。"
"哦哦哦哦……"
詹姆和小天狼星模仿著莉莉高傲的聲音,斯內普走過時詹姆還伸腿絆了他一下。
"回見,鼻涕精!"一個聲音喊道,包廂的門重重地關上了……
場景再次消失……
哈利站在斯內普身后,面對著幾張燭光映照的學院長桌,桌旁是一張張興奮的面孔。這時,麥格教授說道:"莉莉·伊萬斯!"
他注視著自己的母親邁著顫抖的雙腿走上前去,在搖搖晃晃的凳子上坐下。麥格教授把分院帽罩在她腦袋上,帽子接觸到她深紅色的頭發還不到一秒鐘,就喊道:"格蘭芬多!"
哈利聽見斯內普發出一聲輕輕的嘆息。莉莉脫下帽子還給了麥格教授,匆匆朝熱烈歡呼的格蘭芬多同學們走去,但她回頭看了一眼斯內普,臉上露出一絲無奈的苦笑。哈利看見小天狼星在板凳上挪了挪,給她騰出了地方。莉莉看了他一眼,似乎認出他就是火車上的那個人,立刻抱起雙臂,堅定地轉過身背朝著他。
The roll call continued. Harry watched Lupin, Pettigrew, and his father join Lily and Sirius at the Gryffindor table. At last, when only a dozen students remained to be sorted, Professor McGonagall called Snape.
Harry walked with him to the stool, watched him place the hat upon his head. "Slytherin!" cried the Sorting Hat.
And Severus Snape moved off to the other side of the Hall, away from Lily, to where the Slytherins were cheering him, to where Lucius Malfoy, a prefect badge gleaming upon his chest, patted Snape on the back as he sat down beside him. . . .
And the scene changed. . . .
Lily and Snape were walking across the castle courtyard, evidently arguing. Harry hurried to catch up with them, to listen in. As he reached them, he realized how much taller they both were: A few years seemed to have passed since their Sorting.
". . . thought we were supposed to be friends?" Snape was saying. "Best friends?"
"We are, Sev, but I don't like some of the people you're hanging round with! I'm sorry, but I detest Avery and Mulciber! Mulciber! What do you see in him, Sev, he's creepy! D'you know what he tried to do to Mary Macdonald the other day?"
Lily had reached a pillar and leaned against it, looking up into the thin, sallow face.
點名還在繼續。哈利看到盧平、小矮星和他父親都到了格蘭芬多桌旁,跟莉莉和小天狼星坐在一起。最后,只有十幾個學生還沒有分院,麥格教授喊道了斯內普。
哈利和他一起走到凳子旁,看著他把帽子戴在腦袋上。"斯萊特林!"分院帽喊道。
西弗勒斯·斯內普走向禮堂的另一邊,離莉莉越來越遠。斯萊特林同學在那里朝他歡呼,盧修斯·馬爾福胸前戴著閃閃發亮的級長徽章,拍了拍在他身邊坐下的斯內普……
場景變換……
莉莉和斯內普走在城堡的院子里,顯然是在吵架。哈利緊走幾步,追上去偷聽。等到他追近時,才發現他們倆都高了許多。似乎自分院之后已經過去了好幾年。
"……以為我們應該是朋友?"斯內普在說話,"最好的朋友?"
"是這樣啊,西弗,但我不喜歡跟你一起鬼混的那幾個人!對不起,可是我討厭埃弗里和穆爾塞伯!你看出他有哪點好啊,西弗?鬼鬼祟祟的!你知道他那天想對瑪麗·麥克唐納做什么嗎?"
莉莉走到一根柱子前靠了上去,抬頭望著那張灰黃的瘦臉。
"That was nothing," said Snape. "It was a laugh, that's all —"
"It was Dark Magic, and if you think that's funny —"
"What about the stuff Potter and his mates get up to?" demanded Snape. His color rose again as he said it, unable, it seemed, to hold in his resentment.
"What's Potter got to do with anything?" said Lily.
"They sneak out at night. There's something weird about that Lupin. Where does he keep going?"
"He's ill," said Lily. "They say he's ill —"
"Every month at the full moon?" said Snape.
"I know your theory," said Lily, and she sounded cold. "Why are you so obsessed with them anyway? Why do you care what they're doing at night?"
"I'm just trying to show you they're not as wonderful as everyone seems to think they are."
The intensity of his gaze made her blush.
"They don't use Dark Magic, though." She dropped her voice. "And you're being really ungrateful. I heard what happened the other night. You went sneaking down that tunnel by the Whomping Willow, and James Potter saved you from whatever's down there —"
"那不算什么,"斯內普說,"開個玩笑而已,沒什么——"
"那是黑魔法,如果你覺得那很好玩——"
"可波特和他那些朋友干的勾當呢?"斯內普質問道,血又涌到臉上,他似乎無法控制怨恨的情緒。
"波特有什么勾當?"莉莉說。
"他們晚上溜出去。那個盧平有些怪異。他總是出去,去哪兒呢?"
"他病了,"莉莉說,"他們說他病了——"
"每個月滿月的時候?"斯內普說。
"我知道你的想法,"莉莉說,口氣很冷,"奇怪了,你為什么對他們那么上心?你為什么關心他們在夜里做什么?"
"我只是想讓你看到他們并不像大家認為的那樣優秀。"
在他專注的凝視下,她的臉紅了。
"但他們沒有使用黑魔法呀,"她降低了聲音,"而且你真是忘恩負義。我聽說了那天夜里的事情。你從打人柳下偷偷溜進了那條隧道,是詹姆·波特救了你,逃脫了那下面的——"
Snape's whole face contorted and he spluttered, "Saved? Saved? You think he was playing the hero? He was saving his neck and his friends' too! You're not going to — I won't let you —"
"Let me? Let me?"
Lily's bright green eyes were slits. Snape backtracked at once.
"I didn't mean — I just don't want to see you made a fool of — He fancies you, James Potter fancies you!" The words seemed wrenched from him against his will. "And he's not . . . everyone thinks . . . big Quidditch hero —" Snape's bitterness and dislike were rendering him incoherent, and Lily's eyebrows were traveling farther and farther up her forehead.
"I know James Potter's an arrogant toerag," she said, cutting across Snape. "I don't need you to tell me that. But Mulciber's and Avery's idea of humor is just evil. Evil, Sev. I don't understand how you can be friends with them."
Harry doubted that Snape had even heard her strictures on Mulciber and Avery. The moment she had insulted James Potter, his whole body had relaxed, and as they walked away there was a new spring in Snape's step. . . .
And the scene dissolved. . . .
Harry watched again as Snape left the Great Hall after sitting his O.W.L. in Defense Against the Dark Arts, watched as he wandered away from the castle and strayed inadvertently close to the place beneath the beech tree where James, Sirius, Lupin, and Pettigrew sat together. But Harry kept his distance this time, because he knew what happened after James had hoisted Severus into the air and taunted him; he knew what had been done and said, and it gave him no pleasure to hear it again. . . . He watched as Lily joined the group and went to Snape's defense. Distantly he heard Snape shout at her in his humiliation and his fury, the unforgivable word: "Mudblood."
The scene changed. . . .
斯內普整張臉都扭曲變形了,氣急敗壞地說:"救我?救我?你以為他是英雄?他是為了救他自己,還有他的朋友!你可不能——我不讓你——"
"讓我?讓我?"
莉莉那雙明亮的綠眼睛瞇成了縫,斯內普立刻退縮了。
"我不是那個意思——我只是不想看到別人把你當傻瓜——他喜歡你,詹姆·波特喜歡你!"這句話似乎是勉強從他嘴里拽出來的,"他可不是……大家都認為……了不起的魁地奇球明星——"痛苦和反感使得斯內普語無倫次,莉莉的眉毛在額頭上越揚越高。
"我知道詹姆·波特是個自以為是的自大狂,"莉莉打斷了斯內普,"這點不需要你告訴我。但穆爾塞伯和埃弗里的所謂幽默是邪惡的。邪惡的,西弗。我不明白你怎么能跟他們交朋友。"
哈利懷疑斯內普是否聽見了她對穆爾塞伯和埃弗里的批評。莉莉指責詹姆·波特的話一出口,他整個身體就放松了。當他們轉身走開時,斯內普的腳步重又變得輕快起來……
場景消失了……
哈利注視著斯內普參加完黑魔法防御術課的O.W.L.考試后離開禮堂,注視著他悠閑地走出城堡,漫無目的地逛到那棵山毛櫸樹附近,詹姆、小天狼星、盧平和小矮星正一起坐在樹下。但哈利這次沒有靠近他們,因為他知道詹姆把西弗勒斯在空中百般奚落之后發生了什么事情。他知道他們做了什么,說了什么,再聽一遍不會使他快樂。他注視著,莉莉走到那伙人中間去替斯內普辯護。他遠遠地聽見斯內普惱羞成怒地沖她喊出了那個不可原諒的詞:"泥巴種。"
場景變換。
圖片來源:高品圖像