當前位置:

發現

&nbsp > &nbsp

雙語美文

&nbsp >&nbsp

正文
哈利·波特與死亡圣器 第33章(下)
2017-03-18 10:48:00來源:愛詞霸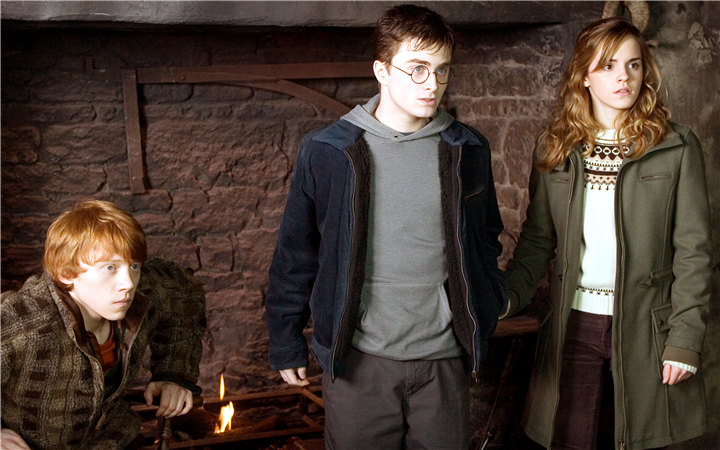 "I'm sorry."
"I'm not interested."
"I'm sorry!"
"Save your breath."
It was nighttime. Lily, who was wearing a dressing gown, stood with her arms folded in front of the portrait of the Fat Lady, at the entrance to Gryffindor Tower.
"I only came out because Mary told me you were threatening to sleep here."
"I was. I would have done. I never meant to call you Mudblood, it just —"
"Slipped out?" There was no pity in Lily's voice. "It's too late. I've made excuses for you for years. None of my friends can understand why I even talk to you. You and your precious little Death Eater friends — you see, you don't even deny it! You don't even deny that's what you're all aiming to be! You can't wait to join You-Know-Who, can you?"
He opened his mouth, but closed it without speaking.
"I can't pretend anymore. You've chosen your way, I've chosen mine."
"No — listen, I didn't mean —"
"— to call me Mudblood? But you call everyone of my birth Mudblood, Severus. Why should I be any different?"
He struggled on the verge of speech, but with a contemptuous look she turned and climbed back through the portrait hole. . . .
"對不起。"
"我沒興趣。"
"對不起!"
"別白費口舌了。"
時間是晚上,莉莉穿著晨衣,抱著雙臂站在格蘭芬多塔樓入口處的胖夫人肖像前面。
"瑪麗說你揚言要睡在這里我才出來的。"
"我就要睡在這里。我絕不是故意叫你泥巴種的,我只是——"
"只是說漏了嘴嗎?"莉莉的聲音里沒有半點同情,"太晚了。這么多年來我一直在找借口原諒你。我的朋友都不能理解我為什么還跟你說話。你和你那些親愛的食死徒朋友——你看,你甚至都不否認!你甚至都不否認那就是你們的目標!你迫不及待地想成為神秘人的手下,對嗎?"
他的嘴巴張了張,沒有說話,又閉上了。
"我不能再裝下去了,你選擇了你的路,我選擇了我的。"
"不——聽我說,我不是故意——"
"——叫我泥巴種?但是你管我這類出身的人都叫泥巴種,西弗勒斯。我又有什么不同呢?"
他掙扎著還想說點什么,但莉莉輕蔑地看了他一眼,轉身從肖像洞口爬了回去……
The corridor dissolved, and the scene took a little longer to reform: Harry seemed to fly through shifting shapes and colors until his surroundings solidified again and he stood on a hilltop, forlorn and cold in the darkness, the wind whistling through the branches of a few leafless trees. The adult Snape was panting, turning on the spot, his wand gripped tightly in his hand, waiting for something or for someone. . . . His fear infected Harry too, even though he knew that he could not be harmed, and he looked over his shoulder, wondering what it was that Snape was waiting for —
Then a blinding, jagged jet of white light flew through the air: Harry thought of lightning, but Snape had dropped to his knees and his wand had flown out of his hand.
"Don't kill me!"
"That was not my intention."
Any sound of Dumbledore Apparating had been drowned by the sound of the wind in the branches. He stood before Snape with his robes whipping around him, and his face was illuminated from below in the light cast by his wand.
"Well, Severus? What message does Lord Voldemort have for me?"
"No — no message — I'm here on my own account!"
Snape was wringing his hands: He looked a little mad, with his straggling black hair flying around him.
走廊消失了,這次場景變換的時間長了一些。哈利似乎飛過了許多變幻的形狀和色彩,最后周圍的景物才固定下來。他站在黑暗中一個荒涼、寒冷的山頂,風嗖嗖地刮過幾棵沒有葉子的枯樹。成年的斯內普氣喘吁吁地原地轉過身子,手里緊緊地捏著魔杖,似乎在等什么人或者什么東西……他的恐懼也感染了哈利,雖然哈利知道自己不可能受到傷害。他納悶斯內普在等什么呢,不禁也轉過頭去——
突然,空中閃過一道刺眼的、之字形的白光,哈利以為是閃電,但斯內普撲通跪倒在地,魔杖從手里飛了出去。
"別殺我!"
"那不是我的意圖。"
風在樹枝間嗚嗚作響,淹沒了鄧布利多剛才幻影顯形的聲音。他站在斯內普的面前,長袍在風里飄擺,魔杖的光從下面照著他的臉。
"怎么樣,西弗勒斯?伏地魔大人有什么口信給我?"
"沒有——沒有口信——我是為自己來的!"
斯內普絞著雙手,看上去有點心神錯亂,烏黑紛亂的頭發在腦袋周圍飄舞。
"I — I come with a warning — no, a request — please —"
Dumbledore flicked his wand. Though leaves and branches still flew through the night air around them, silence fell on the spot where he and Snape faced each other.
"What request could a Death Eater make of me?"
"The — the prophecy . . . the prediction . . . Trelawney . . ."
"Ah, yes," said Dumbledore. "How much did you relay to Lord Voldemort?"
"Everything — everything I heard!" said Snape. "That is why — it is for that reason — he thinks it means Lily Evans!"
"The prophecy did not refer to a woman," said Dumbledore. "It spoke of a boy born at the end of July —"
"You know what I mean! He thinks it means her son, he is going to hunt her down — kill them all —"
"If she means so much to you," said Dumbledore, "surely Lord Voldemort will spare her? Could you not ask for mercy for the mother, in exchange for the son?"
"I have — I have asked him —"
"You disgust me," said Dumbledore, and Harry had never heard so much contempt in his voice. Snape seemed to shrink a little. "You do not care, then, about the deaths of her husband and child? They can die, as long as you have what you want?"
Snape said nothing, but merely looked up at Dumbledore.
"我——我帶來了一個警報——不,一個請求——求求您——"
鄧布利多一揮魔杖。雖然周圍的枝葉仍在晚風里飛舞,但在他和斯內普面對面站立的地方,卻是一片寂靜。
"一個食死徒能對我有何請求?"
"那個——那個預言……那個預言……特里勞妮……"
"啊,是了,"鄧布利多說,"你向伏地魔傳達了多少?"
"一切——我聽到的一切!"斯內普說,"所以——正因為那個——他認為指的是莉莉·伊萬斯!"
"預言沒說是女人,"鄧布利多說,"說的是一個七月底出生的男孩——"
"您明白我的意思!他認為指的是莉莉的兒子,他要追到莉莉——把他們全部殺掉——"
"既然莉莉對你這么重要,"鄧布利多說,"伏地魔肯定會免她一死吧?你就不能求求他饒了那位母親,拿兒子作為交換?"
"我——我求過他——"
"你令我厭惡。"鄧布利多說,哈利從沒聽過鄧布利多以這么輕蔑的口吻說話。斯內普似乎萎縮了一點兒。"那么,你就不關心她丈夫和孩子的死活?他們盡可以死,只要你能得到你想要的?"
斯內普什么也沒說,只是抬頭看著鄧布利多。
"Hide them all, then," he croaked. "Keep her — them — safe. Please."
"And what will you give me in return, Severus?"
"In — in return?" Snape gaped at Dumbledore, and Harry expected him to protest, but after a long moment he said, "Anything."
The hilltop faded, and Harry stood in Dumbledore's office, and something was making a terrible sound, like a wounded animal. Snape was slumped forward in a chair and Dumbledore was standing over him, looking grim. After a moment or two, Snape raised his face, and he looked like a man who had lived a hundred years of misery since leaving the wild hilltop.
"I thought . . . you were going . . . to keep her . . . safe. . . ."
"She and James put their faith in the wrong person," said Dumbledore. "Rather like you, Severus. Weren't you hoping that Lord Voldemort would spare her?"
Snape's breathing was shallow.
"Her boy survives," said Dumbledore.
With a tiny jerk of the head, Snape seemed to flick off an irksome fly.
"Her son lives. He has her eyes, precisely her eyes. You remember the shape and color of Lily Evans's eyes, I am sure?"
"那就把他們都藏起來,"他嘶啞著聲音說道,"保證她——他們的——安全。求求您。"
"那你給我什么作為回報呢,西弗勒斯?"
"作為——回報?"斯內普張口結舌地看著鄧布利多,哈利以為他會拒絕,但良久之后,他說,"什么都行。"
山頂消失了,哈利站在鄧布利多的辦公室里,什么東西在發出可怕的聲音,像某種受傷的動物。斯內普頹然坐在椅子上,身體前傾。鄧布利多站在他面前,神色嚴峻。過了片刻,斯內普抬起臉,自從荒野山頂的一幕之后,他仿佛度過了一百年的苦難歲月。
"我以為……你會……保證她的……安全……"
"她和詹姆錯誤地信任了別人,"鄧布利多說,"就像你,西弗勒斯。你不是也曾指望伏地魔會饒她一命嗎?"
斯內普的呼吸虛弱無力。
"她兒子活下來了。"鄧布利多說。
斯內普猛地晃了一下腦袋,像在趕走一只討厭的蒼蠅。
"她兒子還活著,眼睛和他媽媽的一樣,一模一樣。我想,你肯定記得莉莉·伊萬斯的眼睛,它的形狀和顏色,對嗎?"
"DON'T!" bellowed Snape. "Gone . . . dead . . ."
"Is this remorse, Severus?"
"I wish . . . I wish I were dead. . . ."
"And what use would that be to anyone?" said Dumbledore coldly. "If you loved Lily Evans, if you truly loved her, then your way forward is clear."
Snape seemed to peer through a haze of pain, and Dumbledore's words appeared to take a long time to reach him.
"What — what do you mean?"
"You know how and why she died. Make sure it was not in vain. Help me protect Lily's son."
"He does not need protection. The Dark Lord has gone —"
"The Dark Lord will return, and Harry Potter will be in terrible danger when he does."
There was a long pause, and slowly Snape regained control of himself, mastered his own breathing. At last he said, "Very well. Very well. But never — never tell, Dumbledore! This must be between us! Swear it! I cannot bear . . . especially Potter's son . . . I want your word!"
"My word, Severus, that I shall never reveal the best of you?" Dumbledore sighed, looking down into Snape's ferocious, anguished face. "If you insist . . ."
"不要!"斯內普吼道,"沒了……死了……"
"這是悔恨嗎,西弗勒斯?"
"我希望……我希望死的是我……"
"那對別人有什么用呢?"鄧布利多冷冷地說,"如果你愛莉莉·伊萬斯,如果你真心地愛她,那你面前的道路很清楚。"
斯內普眼前似乎隔著一層痛苦的迷霧,鄧布利多的話仿佛過了很長時間才傳到他的耳朵里。
"您——您說什么?"
"你知道她是怎么死的,為什么死的。別讓她白白犧牲。幫助我保護莉莉的兒子。"
"他不需要保護。黑魔王走了——"
"黑魔王還會回來,到那時候,哈利·波特將會面臨可怕的危險。"
靜默了很久,斯內普慢慢控制住自己,呼吸自如了。最后他說道:"很好。很好。可是千萬——千萬別說出去,鄧布利多!只能你知我知!您起誓!我受不了……特別是波特的兒子……我要您起誓!"
"要我起誓,西弗勒斯,永遠不把你最好的方面透露出去?"鄧布利多低頭看著斯內普那張激動而又痛苦的臉,嘆息著說,"如果你堅持……"
The office dissolved but re-formed instantly. Snape was pacing up and down in front of Dumbledore.
"— mediocre, arrogant as his father, a determined rulebreaker, delighted to find himself famous, attention-seeking and impertinent —"
"You see what you expect to see, Severus," said Dumbledore, without raising his eyes from a copy of Transfiguration Today. "Other teachers report that the boy is modest, likable, and reasonably talented. Personally, I find him an engaging child."
Dumbledore turned a page, and said, without looking up, "Keep an eye on Quirrell, won't you?"
A whirl of color, and now everything darkened, and Snape and Dumbledore stood a little apart in the entrance hall, while the last stragglers from the Yule Ball passed them on their way to bed.
"Well?" murmured Dumbledore.
"Karkaroff 's Mark is becoming darker too. He is panicking, he fears retribution; you know how much help he gave the Ministry after the Dark Lord fell." Snape looked sideways at Dumbledore's crooked-nosed profile. "Karkaroff intends to flee if the Mark burns."
"Does he?" said Dumbledore softly, as Fleur Delacour and Roger Davies came giggling in from the grounds. "And are you tempted to join him?"
"No," said Snape, his black eyes on Fleur's and Roger's retreating figures. "I am not such a coward."
"No," agreed Dumbledore. "You are a braver man by far than Igor Karkaroff. You know, I sometimes think we Sort too soon. . . ."
He walked away, leaving Snape looking stricken. . . .
辦公室消失了,緊接著又重新浮現。斯內普在鄧布利多面前踱來踱去。
"——跟他父親一樣平庸、傲慢,專愛違反紀律,喜歡出風頭,吸引別人注意,放肆無禮——"
"你看到的是你預想會看到的東西,西弗勒斯,"鄧布利多在看一本《今日變形術》,頭也不抬地說,"別的老師都說那男孩謙虛、隨和,天資也不錯。我個人也發現他是個討人喜歡的孩子。"
鄧布利多翻過一頁,仍然頭也不抬地說:"注意奇洛,好嗎?"
色彩旋轉,周圍的一切都變得昏暗了,斯內普和鄧布利多隔開一點站在門廳里。圣誕舞會上最后一批人從他們身邊走過,回去睡覺了。
"怎么樣?"鄧布利多輕聲問。
"卡卡洛夫的標記也變黑了。他很緊張,擔心會受到懲罰。你知道黑魔王倒臺后他給了魔法部很多幫助。"斯內普側眼看著鄧布利多那長著彎鼻子的面影,"卡卡洛夫打算,如果標記灼痛起來,他就逃跑。"
"是嗎?"鄧布利多輕聲說,這時芙蓉·德拉庫爾和羅杰·戴維斯咯咯地笑著從操場進來了,"你也很想跟他一起去?"
"不,"斯內普說,他的黑眼睛盯著芙蓉和羅杰遠去的背影,"我不是那樣的膽小鬼。"
"對,"鄧布利多贊同道,"到目前為止,你比伊戈爾·卡卡洛夫要勇敢得多。知道嗎,我有時覺得我們的分類太草率了……"
他走開了,斯內普兀自垂頭喪氣……
And now Harry stood in the headmaster's office yet again. It was nighttime, and Dumbledore sagged sideways in the thronelike chair behind the desk, apparently semiconscious. His right hand dangled over the side, blackened and burned. Snape was muttering incantations, pointing his wand at the wrist of the hand, while with his left hand he tipped a goblet full of thick golden potion down Dumbledore's throat. After a moment or two, Dumbledore's eyelids fluttered and opened.
"Why," said Snape, without preamble, "why did you put on that ring? It carries a curse, surely you realized that. Why even touch it?"
Marvolo Gaunt's ring lay on the desk before Dumbledore. It was cracked; the sword of Gryffindor lay beside it.
Dumbledore grimaced.
"I . . . was a fool. Sorely tempted . . ."
"Tempted by what?"
Dumbledore did not answer.
"It is a miracle you managed to return here!" Snape sounded furious. "That ring carried a curse of extraordinary power, to contain it is all we can hope for; I have trapped the curse in one hand for the time being —"
Dumbledore raised his blackened, useless hand, and examined it with the expression of one being shown an interesting curio.
"You have done very well, Severus. How long do you think I have?"
這一次,哈利還是站在校長辦公室里。時間是晚上,鄧布利多無力地歪在桌后寶座般的椅子上,看上去神志不清。他的右手耷拉著,被燒焦了,黑乎乎的。斯內普低聲念著咒語,將魔杖對準了那只手腕,左手把一杯濃濃的金色藥液灌進了鄧布利多的嘴里。過了片刻,鄧布利多的眼皮抖動了幾下,睜開了。
"你為什么,"斯內普劈頭就問道,"為什么要戴上那枚戒指?它上面有魔咒,你肯定知道。為什么還要碰它?"
馬沃羅·岡特的戒指放在鄧布利多面前的桌子上,已經破裂,旁邊是格蘭芬多的寶劍。
鄧布利多苦笑了一下。
"我……我做了傻事。誘惑太大了……"
"什么誘惑?"
鄧布利多沒有回答。
"你能夠回到這里已是個奇跡!"斯內普怒氣沖沖地說,"那枚戒指上有特別強大的魔咒,我們最多能希望把它遏制祝我已經把魔咒暫時囚禁在一只手里——"
鄧布利多舉起那只焦黑、無用的手,仔細端詳著,就像面對著一個非常有趣的古董。
"你干得很出色,西弗勒斯。你認為我還有多少時間?"
Dumbledore's tone was conversational; he might have been asking for a weather forecast. Snape hesitated, and then said, "I cannot tell. Maybe a year. There is no halting such a spell forever. It will spread eventually, it is the sort of curse that strengthens over time."
Dumbledore smiled. The news that he had less than a year to live seemed a matter of little or no concern to him.
"I am fortunate, extremely fortunate, that I have you, Severus."
"If you had only summoned me a little earlier, I might have been able to do more, buy you more time!" said Snape furiously. He looked down at the broken ring and the sword. "Did you think that breaking the ring would break the curse?"
"Something like that . . . I was delirious, no doubt. . . ." said Dumbledore. With an effort he straightened himself in his chair. "Well, really, this makes matters much more straightforward."
Snape looked utterly perplexed. Dumbledore smiled.
"I refer to the plan Lord Voldemort is revolving around me. His plan to have the poor Malfoy boy murder me."
Snape sat down in the chair Harry had so often occupied, across the desk from Dumbledore. Harry could tell that he wanted to say more on the subject of Dumbledore's cursed hand, but the other held it up in polite refusal to discuss the matter further. Scowling, Snape said, "The Dark Lord does not expect Draco to succeed. This is merely punishment for Lucius's recent failures. Slow torture for Draco's parents, while they watch him fail and pay the price."
鄧布利多的語氣輕松隨意,如同在詢問天氣預報。斯內普遲疑了一下,說:"我說不好,大概一年。沒有辦法永遠遏制這樣的魔咒。它最終總會擴散,這種魔咒會隨著時間的推移不斷加強。"
鄧布利多露出了微笑。他只剩下不到一年的時間了,這消息對他來說似乎無足輕重。
"我很幸運,非常幸運,有你在我身邊,西弗勒斯。"
"如果你早點把我叫來,我或許能多采取些措施,為你爭取更多的時間!"斯內普惱怒地說,他低頭看著破碎的戒指和那把寶劍,"你以為摧毀戒指就能破除魔咒?"
"差不多吧……我肯定是昏了頭了……"鄧布利多說,他吃力地在椅子上坐直身子,"也好,這樣就使事情變得更簡單了。"
斯內普似乎完全被弄糊涂了。鄧布利多笑了笑。
"我指的是伏地魔圍繞我制定的計劃。他計劃馬爾福家那個可憐的男孩殺死我。"
斯內普在哈利經常坐的椅子上坐了下來,隔著桌子面對著鄧布利多。哈利看出他還想再談談鄧布利多那只被魔咒傷害的手,但對方舉起焦手,委婉地表示不愿意繼續談論這個話題。斯內普皺著眉頭說:"黑魔王沒指望德拉科能夠得手。這只是為了懲罰盧修斯最近的失敗。讓德拉科的父母眼看著兒子失手,然后付出代價,這對他們來說是鈍刀子割肉。"
"In short, the boy has had a death sentence pronounced upon him as surely as I have," said Dumbledore. "Now, I should have thought the natural successor to the job, once Draco fails, is yourself?"
There was a short pause.
"That, I think, is the Dark Lord's plan."
"Lord Voldemort foresees a moment in the near future when he will not need a spy at Hogwarts?"
"He believes the school will soon be in his grasp, yes."
"And if it does fall into his grasp," said Dumbledore, almost, it seemed, as an aside, "I have your word that you will do all in your power to protect the students of Hogwarts?"
Snape gave a stiff nod.
"Good. Now then. Your first priority will be to discover what Draco is up to. A frightened teenage boy is a danger to others as well as to himself. Offer him help and guidance, he ought to accept, he likes you —"
"— much less since his father has lost favor. Draco blames me, he thinks I have usurped Lucius's position."
"All the same, try. I am concerned less for myself than for accidental victims of whatever schemes might occur to the boy. Ultimately, of course, there is only one thing to be done if we are to save him from Lord Voldemort's wrath."
Snape raised his eyebrows and his tone was sardonic as he asked, "Are you intending to let him kill you?"
"總之,這男孩像我一樣被明確地判了死刑。"鄧布利多說,"我認為,一旦德拉科失手,接替這項工作的自然是你啰?"
短暫的沉默。
"我想,黑魔王是這么設計的。"
"伏地魔是否預見在不久的將來,他在霍格沃茨不再需要密探?"
"他相信學校很快就會被他控制,是的。"
"如果學校真的落到他的手里,"鄧布利多說,好像是臨時想到插了一句,"我要你起誓你會盡全部的力量保護霍格沃茨的學生,行嗎?"
斯內普僵硬地點了點頭。
"很好。那么,你首先需要弄清德拉科打算干什么。一個驚慌失措的少年不僅對他自己危險,對別人也很危險。向他提供幫助和指導,他應該會接受,他喜歡你——"
"——他父親失寵之后,他就不那么喜歡我了。德拉科怨我,認為我奪走了盧修斯的位置。"
"沒關系,試試吧。比起我自己來,我更關心的是那個男孩任何行動計劃的意外犧牲品。當然啦,如果要把他從伏地魔的暴怒中解救出來,最終只有一個辦法。"
斯內普揚起眉毛,用諷刺的口吻問道:"你打算讓他把你殺死?"
"Certainly not. You must kill me."
There was a long silence, broken only by an odd clicking noise. Fawkes the phoenix was gnawing a bit of cuttlebone.
"Would you like me to do it now?" asked Snape, his voice heavy with irony. "Or would you like a few moments to compose an epitaph?"
"Oh, not quite yet," said Dumbledore, smiling. "I daresay the moment will present itself in due course. Given what has happened tonight," he indicated his withered hand, "we can be sure that it will happen within a year."
"If you don't mind dying," said Snape roughly, "why not let Draco do it?"
"That boy's soul is not yet so damaged," said Dumbledore. "I would not have it ripped apart on my account."
"And my soul, Dumbledore? Mine?"
"You alone know whether it will harm your soul to help an old man avoid pain and humiliation," said Dumbledore. "I ask this one great favor of you, Severus, because death is coming for me as surely as the Chudley Cannons will finish bottom of this year's league. I confess I should prefer a quick, painless exit to the protracted and messy affair it will be if, for instance, Greyback is involved — I hear Voldemort has recruited him? Or dear Bellatrix, who likes to play with her food before she eats it."
"當然不是。必須由你殺死我。"
長久的沉默,屋里只有一種奇怪的咔啦啦的聲音。鳳凰福克斯在啃一小塊墨魚骨頭。
"你希望我現在就動手嗎?"斯內普問,語氣里透著濃濃的諷刺,"還是你需要一點時間構思一個墓碑?"
"哦,暫時還不用,"鄧布利多微笑著說,"我想,那一刻該來的時候總會來的。從今晚的事情來看,"他指指自己焦枯的手,"我們可以肯定它將在一年之內發生。"
"既然你不在乎死,"斯內普粗暴地說,"為什么不讓德拉科得手呢?"
"那個男孩的靈魂還沒被完全糟蹋,"鄧布利多說,"我不愿意因為我的緣故把它弄得四分五裂。"
"那么我的靈魂呢,鄧布利多?我的呢?"
"只有你知道幫助一個老人免于痛苦和恥辱不會傷害你的靈魂,"鄧布利多說,"西弗勒斯,我請求你為我完成這件大事,因為死亡對于我來說是鐵板釘釘的事,就像查德理火炮隊將在今年的聯賽中墊底一樣。說句實話,我倒愿意沒有痛苦地迅速結束生命,而不愿意拖拖拉拉,死得很狼狽,比如,把格雷伯克牽扯進來——我聽說伏地魔把他也招進去了?或者落到親愛的貝拉特里克斯手里,她喜歡把食物玩夠了再吃?"
His tone was light, but his blue eyes pierced Snape as they had frequently pierced Harry, as though the soul they discussed was visible to him. At last Snape gave another curt nod.
Dumbledore seemed satisfied.
"Thank you, Severus . . ."
The office disappeared, and now Snape and Dumbledore were strolling together in the deserted castle grounds by twilight.
"What are you doing with Potter, all these evenings you are closeted together?" Snape asked abruptly.
Dumbledore looked weary.
"Why? You aren't trying to give him more detentions, Severus? The boy will soon have spent more time in detention than out."
"He is his father over again —"
"In looks, perhaps, but his deepest nature is much more like his mother's. I spend time with Harry because I have things to discuss with him, information I must give him before it is too late."
"Information," repeated Snape. "You trust him . . . you do not trust me."
"It is not a question of trust. I have, as we both know, limited time. It is essential that I give the boy enough information for him to do what he needs to do."
他的語氣很輕松,但那雙藍眼睛卻犀利地望著斯內普,就像從前望著哈利一樣,似乎能真切地看見他們所談論的靈魂。最后,斯內普輕輕地點了點頭。
鄧布利多好像滿意了。
"謝謝你,西弗勒斯……"
辦公室消失了,暮色中,斯內普和鄧布利多一起在冷冷清清的城堡操場上漫步。
"這些晚上你和波特兩人關禁閉吧,西弗勒斯?過不了多久,這男孩關禁閉的時間會比他自由的時間還多。"
"他簡直是他父親的翻版——"
"相貌上也許是這樣,但他骨子里更像他的母親。我和哈利待在一起,是因為我有事情要跟他商量,我必須給他一些信息,不然就來不及了。"
"信息,"斯內普說,"你信任他……卻不信任我。"
"這不是信任不信任的問題。你我都知道,我的時間有限。我必須給那男孩足夠的信息讓他去完成需要完成的事情。"
"And why may I not have the same information?"
"I prefer not to put all of my secrets in one basket, particularly not a basket that spends so much time dangling on the arm of Lord Voldemort."
"Which I do on your orders!"
"And you do it extremely well. Do not think that I underestimate the constant danger in which you place yourself, Severus. To give Voldemort what appears to be valuable information while withholding the essentials is a job I would entrust to nobody but you."
"Yet you confide much more in a boy who is incapable of Occlumency, whose magic is mediocre, and who has a direct connection into the Dark Lord's mind!"
"Voldemort fears that connection," said Dumbledore. "Not so long ago he had one small taste of what truly sharing Harry's mind means to him. It was pain such as he has never experienced. He will not try to possess Harry again, I am sure of it. Not in that way."
"I don't understand."
"Lord Voldemort's soul, maimed as it is, cannot bear close contact with a soul like Harry's. Like a tongue on frozen steel, like flesh in flame —"
"Souls? We were talking of minds!"
"In the case of Harry and Lord Voldemort, to speak of one is to speak of the other."
Dumbledore glanced around to make sure that they were alone. They were close by the Forbidden Forest now, but there was no sign of anyone near them.
"那為什么我不能得到同樣的信息?"
"我不想把我所有的秘密都裝在一個籃子里,特別是一個許多時間都掛在伏地魔胳膊上的籃子。"
"我是按你的吩咐做的!"
"你做得非常出色。不要以為我低估了你時時所處的危險,西弗勒斯。只把看似有價值的情報告訴伏地魔,而把最重要的信息留在心底,這項工作我只能交給你。"
"可是你卻更信賴一個連大腦封閉術都不會的小男孩,他的魔法很平庸,而且可以直接連接黑魔王的思想!"
"伏地魔害怕那種連接,"鄧布利多說,"不久以前,他稍稍領略了一番分享哈利的思想對他來說意味著什么。他從未體驗過那樣的痛苦。他再也不會試圖控制哈利了,我可以肯定,至少不是用那種方式。"
"我不明白。"
"伏地魔的靈魂如此殘缺不全,它受不了接近哈利那樣的靈魂,就像舌頭粘在冰凍的鋼上,皮肉接觸火焰——"
"靈魂?我們談的是思想!"
"在哈利和伏地魔的問題上,這兩者是一回事。"
鄧布利多環顧四周,確保除了他倆之外沒有別人。他們現在到了禁林附近,但周圍沒有一個人影。
"After you have killed me, Severus —"
"You refuse to tell me everything, yet you expect that small service of me!" snarled Snape, and real anger flared in the thin face now. "You take a great deal for granted, Dumbledore! Perhaps I have changed my mind!"
"You gave me your word, Severus. And while we are talking about services you owe me, I thought you agreed to keep a close eye on our young Slytherin friend?"
Snape looked angry, mutinous. Dumbledore sighed.
"Come to my office tonight, Severus, at eleven, and you shall not complain that I have no confidence in you. . . ."
They were back in Dumbledore's office, the windows dark, and Fawkes sat silent as Snape sat quite still, as Dumbledore walked around him, talking.
"Harry must not know, not until the last moment, not until it is necessary, otherwise how could he have the strength to do what must be done?"
"But what must he do?"
"That is between Harry and me. Now listen closely, Severus. There will come a time — after my death — do not argue, do not interrupt! There will come a time when Lord Voldemort will seem to fear for the life of his snake."
"For Nagini?" Snape looked astonished.
"Precisely. If there comes a time when Lord Voldemort stops sending that snake forth to do his bidding, but keeps it safe beside him under magical protection, then, I think, it will be safe to tell Harry."
"Tell him what?"
Dumbledore took a deep breath and closed his eyes.
"西弗勒斯,在你殺死我之后——"
"你什么都不肯告訴我,卻還指望我幫你那個小忙!"斯內普低吼道。瘦瘦的臉上閃著真正的怒氣,"你覺得許多事情都理所當然,鄧布利多!說不定我改變主意了呢!"
"你發過誓的,西弗勒斯。說到你為我效力的事,我記得你答應過要密切關注我們那位年輕的斯萊特林朋友,對嗎?"
斯內普顯得惱怒而不服氣。鄧布利多嘆息了一聲。
"今晚十一點到我辦公室來,西弗勒斯,你就不會抱怨我不信任你了……"
他們回到鄧布利多的辦公室,窗外漆黑一片,福克斯安安靜靜地待著,斯內普坐在那里一動不動,鄧布利多一邊說話,一邊在他周圍走來走去。
"不到最后關頭,不到絕對必要的時候,千萬不能讓哈利知道,不然他怎么有力量去做他必須要做的事情呢?"
"他必須要做什么?"
"那是哈利和我之間的事。現在,西弗勒斯,請你聽仔細了。到了某個時候——在我死后——不要反駁,不要插嘴!到了某個時候,伏地魔似乎會為他那條大蛇的生命擔心。"
"為納吉尼擔心?"斯內普顯得很驚愕。
"不錯。如果到了某個時候,伏地魔不再派那條大蛇去執行命令,而是讓它守在身邊,用魔法把它保護起來,到了那時,我想就可以告訴哈利了。"
"告訴他什么?"
鄧布利多深深吸了口氣,閉上了眼睛。
"Tell him that on the night Lord Voldemort tried to kill him, when Lily cast her own life between them as a shield, the Killing Curse rebounded upon Lord Voldemort, and a fragment of Voldemort's soul was blasted apart from the whole, and latched itself onto the only living soul left in that collapsing building. Part of Lord Voldemort lives inside Harry, and it is that which gives him the power of speech with snakes, and a connection with Lord Voldemort's mind that he has never understood. And while that fragment of soul, unmissed by Voldemort, remains attached to and protected by Harry, Lord Voldemort cannot die."
Harry seemed to be watching the two men from one end of a long tunnel, they were so far away from him, their voices echoing strangely in his ears.
"So the boy . . . the boy must die?" asked Snape quite calmly.
"And Voldemort himself must do it, Severus. That is essential."
Another long silence. Then Snape said, "I thought . . . all these years . . . that we were protecting him for her. For Lily."
"We have protected him because it has been essential to teach him, to raise him, to let him try his strength," said Dumbledore, his eyes still tight shut. "Meanwhile, the connection between them grows ever stronger, a parasitic growth: Sometimes I have thought he suspects it himself. If I know him, he will have arranged matters so that when he does set out to meet his death, it will truly mean the end of Voldemort."
Dumbledore opened his eyes. Snape looked horrified.
"告訴他,在伏地魔試圖殺死他的那天夜里,當莉莉用自己的生命擋在他們之間時,那個殺戮咒反彈到伏地魔身上,伏地魔靈魂的一個碎片被炸飛了,附著在坍塌的房子里惟一活著的靈魂上。伏地魔的一部分活在哈利體內,使哈利有了與蛇對話的能力,并可以連接伏地魔的思想,這一直令他百思不得其解。只要那個沒被伏地魔發現的靈魂碎片還依附在哈利身上,受到哈利的保護,伏地魔就不可能死。"
哈利似乎是在一條長長隧道的盡頭注視著鄧布利多和斯內普,他們離他那么遙遠,他們的說話聲在他耳朵里發出奇怪的回音。
"那么那男孩……那男孩必須死去?"斯內普很平靜地問。
"而且必須由伏地魔親自動手,西弗勒斯。那是非常重要的。"
又是長時間的沉默。然后斯內普說:"我還以為……這么多年來……我還以為我們是在保護他,為了她,為了莉莉。"
"我們保護他,是因為必須調教他,培養他,讓他磨煉自己的能力,"鄧布利多說,仍然緊閉著眼睛,"與此同時,他們之間的連接也變得越來越強,像一種寄生的生命。有時我覺得他好像自己也有所察覺。如果我真的了解他,我認為他會把一切安排妥當,這樣當他毅然赴死時,就意味著伏地魔的真正完結。"
鄧布利多睜開了眼睛,斯內普神色驚恐。
"You have kept him alive so that he can die at the right moment?"
"Don't be shocked, Severus. How many men and women have you watched die?"
"Lately, only those whom I could not save," said Snape. He stood up. "You have used me."
"Meaning?"
"I have spied for you and lied for you, put myself in mortal danger for you. Everything was supposed to be to keep Lily Potter's son safe. Now you tell me you have been raising him like a pig for slaughter —"
"But this is touching, Severus," said Dumbledore seriously. "Have you grown to care for the boy, after all?"
"For him?" shouted Snape. "Expecto Patronum!"
From the tip of his wand burst the silver doe: She landed on the office floor, bounded once across the office, and soared out of the window. Dumbledore watched her fly away, and as her silvery glow faded he turned back to Snape, and his eyes were full of tears.
"After all this time?"
"Always," said Snape.
And the scene shifted. Now, Harry saw Snape talking to the portrait of Dumbledore behind his desk.
"你讓他活著,只是為了他能在適當的時候赴死?"
"別大驚失色,西弗勒斯。你目睹了多少男男女女的死?"
"最近,只有那些我無力相救的人。"斯內普說,然后他站了起來,"你利用了我。"
"什么意思?"
"我為你做密探,為你編造謊言,為你冒著致命的危險。這一切據說都是為了保證莉莉·波特兒子的安全。現在你卻告訴我,你養著他就像養著一頭待殺的豬——"
"多么感人哪,西弗勒斯,"鄧布利多嚴肅地說,"難道你真的開始喜歡那個男孩了?"
"喜歡他?"斯內普叫了起來,"呼神護衛!"
他的杖尖蹦出了那頭銀色的牝鹿。它落在地板上,輕輕一躍就到了辦公室那頭,飛出了窗外。鄧布利多注視著它遠去,注視著它的銀光消失,然后轉臉望著斯內普,他的眼里已盈滿淚水。
"這么長時間了還是這樣?"
"一直是這樣。"斯內普說。
場景轉換。現在,哈利看見斯內普在跟辦公室后的鄧布利多肖像說話。
"You will have to give Voldemort the correct date of Harry's departure from his aunt and uncle's," said Dumbledore. "Not to do so will raise suspicion, when Voldemort believes you so well informed. However, you must plant the idea of decoys; that, I think, ought to ensure Harry's safety. Try Confunding Mundungus Fletcher. And Severus, if you are forced to take part in the chase, be sure to act your part convincingly. . . . I am counting upon you to remain in Lord Voldemort's good books as long as possible, or Hogwarts will be left to the mercy of the Carrows. . . ."
Now Snape was head to head with Mundungus in an unfamiliar tavern, Mundungus's face looking curiously blank, Snape frowning in concentration.
"You will suggest to the Order of the Phoenix," Snape murmured, "that they use decoys. Polyjuice Potion. Identical Potters. It is the only thing that might work. You will forget that I have suggested this. You will present it as your own idea. You understand?"
"I understand," murmured Mundungus, his eyes unfocused. . . .
Now Harry was flying alongside Snape on a broomstick through a clear dark night: He was accompanied by other hooded Death Eaters, and ahead were Lupin and a Harry who was really George. . . . A Death Eater moved ahead of Snape and raised his wand, pointing it directly at Lupin's back —
"Sectumsempra!" shouted Snape.
But the spell, intended for the Death Eater's wand hand, missed and hit George instead —
And next, Snape was kneeling in Sirius's old bedroom. Tears were dripping from the end of his hooked nose as he read the old letter from Lily. The second page carried only a few words: could ever have been friends with Gellert Grindelwald. I think her mind's going, personally! Lots of love.
Snape took the page bearing Lily's signature, and her love, and tucked it inside his robes. Then he ripped in two the photograph he was also holding, so that he kept the part from which Lily laughed, throwing the portion showing James and Harry back onto the floor, under the chest of drawers. . . .
"你必須把哈利離開他姨媽姨父家的確切日期告訴伏地魔,"鄧布利多說,"伏地魔認為你消息非常靈通,你不這么做會引起懷疑的。不過,你必須把利用替身的主意灌輸給別人——我想那樣應該能夠保證哈利的安全。試著對蒙頓格斯·弗萊奇用混淆咒。還有,西弗勒斯,如果你不得不參加追逐,一定要表現得令人信服……我指望你繼續取得伏地魔的信任,時間越長越好,不然,霍格沃茨就會任由卡羅兄妹擺布……"
現在,斯內普正在一家陌生的酒館里與蒙頓格斯交頭接耳,蒙頓格斯滿臉的茫然、迷惑,斯內普皺著眉頭,全神貫注。
"你要向鳳凰社提出建議,"斯內普低聲說道,"讓他們使用替身。復方湯劑。幾個一模一樣的波特。只有這個辦法才管用。你要忘記這個建議是我提的。要當成你自己的主意提出來。明白嗎?"
"明白。"蒙頓格斯喃喃地說,兩眼呆滯無神……
現在,哈利伴著騎掃帚的斯內普,在空曠的黑夜中飛行。身邊還有其他戴兜帽的食死徒,前面是盧平,還有一個由喬治扮成的哈利……一個食死徒沖到斯內普前面,舉起魔杖對準了盧平的后背——
"神鋒無影!"斯內普大喊一聲。
魔咒本來瞄準的是食死徒拿魔杖的手,不料卻擊中了喬治——
接著,斯內普跪在小天狼星的舊臥室里。他讀著莉莉寫的那封舊信,淚水從鷹鉤鼻的鼻尖流淌下來。信的第二頁只有幾句話:
會和蓋勒特·格林德沃交朋友。我個人認為,她腦子有點糊涂了!
無限愛意
莉莉
斯內普拿起這頁留有莉莉簽名和愛意的信紙,塞進了長袍里。然后他把手里的照片一撕兩半,留下莉莉歡笑的一半,把詹姆和哈利的一半扔在地上的五斗櫥下……
And now Snape stood again in the headmaster's study as Phineas Nigellus came hurrying into his portrait.
"Headmaster! They are camping in the Forest of Dean! The Mudblood —"
"Do not use that word!"
"— the Granger girl, then, mentioned the place as she opened her bag and I heard her!"
"Good. Very good!" cried the portrait of Dumbledore behind the headmaster's chair. "Now, Severus, the sword! Do not forget that it must be taken under conditions of need and valor — and he must not know that you give it! If Voldemort should read Harry's mind and see you acting for him —"
"I know," said Snape curtly. He approached the portrait of Dumbledore and pulled at its side. It swung forward, revealing a hidden cavity behind it from which he took the sword of Gryffindor.
"And you still aren't going to tell me why it's so important to give Potter the sword?" said Snape as he swung a traveling cloak over his robes.
"No, I don't think so," said Dumbledore's portrait. "He will know what to do with it. And Severus, be very careful, they may not take kindly to your appearance after George Weasley's mishap —"
Snape turned at the door.
"Don't worry, Dumbledore," he said coolly. "I have a plan. . . ."
現在,斯內普又站在校長的書房里,菲尼亞斯·奈杰勒斯匆匆闖進了自己的肖像。
"校長!他們在迪安森林里扎營!那個泥巴種——"
"不許說那個詞!"
"——那個姓格蘭杰的女孩打開包時說了地名,我聽見了!"
"好,很好!"校長座椅后面的鄧布利多肖像大聲說,"現在,西弗勒斯,拿上那把寶劍吧!別忘了必須在有需要和有勇氣的條件下才能拿到它——千萬別讓他知道是你拿去的!萬一伏地魔讀取哈利的思想,看到你在幫他——"
"我知道。"斯內普簡單地說。他湊近了鄧布利多的肖像,把它往外一拉。肖像打開了,露出藏在后面的一個洞,斯內普從里面拿出了格蘭芬多的寶劍。
"你還是不肯告訴我為什么把寶劍交給波特這么重要,是嗎?"斯內普說著把一件旅行斗篷披在長袍外面。
"是的,確實如此,"鄧布利多肖像說道,"他會知道拿它派什么用常西弗勒斯,千萬小心,喬治·韋斯萊發生意外之后,他們對你的出現不會表示友好——"
斯內普在門邊轉過身。
"不用擔心,鄧布利多,"他冷冷地說,"我自有安排……"
斯內普離開了房間。哈利慢慢地從冥想盆里升了上來。片刻之后,他躺在校長辦公室的地毯上,就好像斯內普剛剛把房門關上。
圖像來源:高品圖像